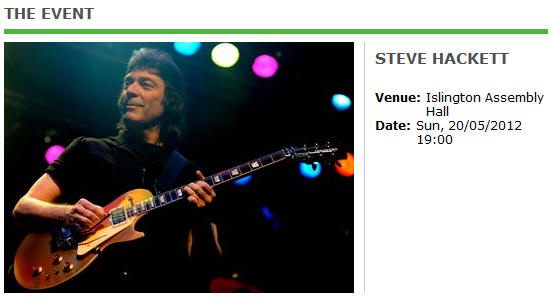 Steve Hackett Announces Unique One-off London Show PAST AND PRESENT
and single in aid of Childline Rocks
Steve Hackett and the Electric Band will be performing a special, unique one-off show - Past and Present – at the Islington Assembly Hall, London on Sunday 20 May 2012 in aid of Childline Rocks. To coincide with the event, they will release a double 'A' side digital single 'Til These Eyes' coupled with 'Enter The Night' (Radio Mix) on 21st May (20th on iTunes); part of the sales revenue from the single will also go to the charity.
Steve says: "My Past and Present show at the Islington Assembly on 20th May celebrates both my early time with Genesis, along with my first album and then jumps forward to my most recent albums. With both the delicacy of acoustic and the explosion of the electric experience, it's a Janus show that looks both backwards and forwards and links the early days to the present, with an eye to the future...
With support for the charity Childline and the influence of JM Barrie's Peter Pan story in my single "Enter the Night", we visit the realm of lost children. There's a sad story behind this magical child of eternal youth, because Barrie's brother had died as a young boy, remaining young in spirit forever but unable to grow up and live a full life. Barrie gave proceeds of the book Peter Pan to charity to help children and to save young lives, and we also hope to make a difference with our support of Childline."
Hackett's recent UK shows were reviewed enthusiastically: 'mesmerizing', 'spine-tingling power and majesty', 'a bravura performance extending well over two hours' are just a few of the words used to describe the dazzling shows. Timeless classics from both Genesis and Hackett's solo catalogue will be performed on the night by Steve and his talented band, featuring Lee Pomeroy on bass (Take That) as well as regular band members Roger King (keyboards), Gary O'Toole (drums & vocals), Rob Townsend (Various saxes, flute, whistle and vocals) and Amanda Lehmann (guitar and vocals).
ChildLine Rocks is an independent committee originally set up to raise money for Childline -twinned with the NSPCC - through live music. The first ChildLine Rocks event was held at London's indigO2 in March 2008; the line-up included Roger Daltrey, Lulu, Marillion, Thunder, Ian Paice (Deep Purple) and The Zombies. The event, which was compered by legendary DJ, "Whispering" Bob Harris, raised over 100,000 which paid for 40 new volunteer ChildLine counselors. The CLR committee is chaired by Malcolm Bluemel, the owner of Planet Rock Radio and includes Classic Rock and Yamaha amongst others.
ChildLine is the UK's free, 24-hour helpline for children in distress or danger. Trained volunteer counselors comfort, advise and protect children and young people who may feel they have nowhere else to turn. Almost 1300 volunteers provide a counseling service, supervised by a team of professional supervisors and managers. Every day ChildLine counselors answer around 2,500 calls from children and young people looking for comfort, advice and protection